My short story
As He Watches
is now available for download! This story was written based on a prompt posted as part of the Goodreads M/M Romance Group's
Love Has No Boundaries
event, and it was lots of fun to participate this year. I've read some great stories from this event so far and have many more to go - what a wonderful way to spend the summer.
Genre:
contemporary
Tags:
athletes, underwear fetish, humiliation, illness/disease, atonement, masturbation, orgasm denial
Word count:
24,889
Here's the link:
http://www.mmromancegroup.com/?p=28509?age-verified=abdcd09906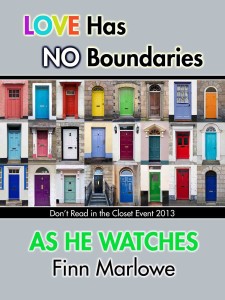 Thank you to all the volunteers at the group who put this event together (and for their awesome assistance with editing the story) - you are amazing!
Hope you enjoy it.